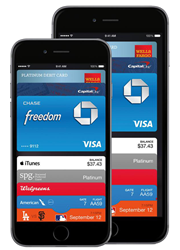 Scottsdale, AZ (PRWEB) January 29, 2015
Electronic Commerce International (ECI), the nations leading payment processing solutions provider, today announced it is now offering Apple Pay set up for merchants. Apple Pay, the breakthrough contactless payment technology, allows consumers to securely pay for products and services with the tap of an iPhone, Apple Watch, or iPad.
The arrival of Apple Pay has opened a world of opportunity for merchants of all sizes to grow their businesses by offering consumers a transaction experience that is as easy as placing their phone near a point-of-sale terminal.
Apple Pay represents the future of digital payments and ECI is supporting this technology to ensure our merchants transactions are convenient and secure, said Jim Anderson, CEO of Electronic Commerce International.
As data breaches and fraud have become increasingly problematic for merchants, in addition to its convenience, Apple Pay offers an unprecedented level of privacy and security. With Apple Pay, instead of using actual credit and debit card numbers, when consumers add their card, a unique Device Account Number is assigned, encrypted, and securely stored in their iPhone, iPad, or Apple Watch. The numbers are never stored on Apple servers, so when purchases are made, consumers credit or debit card numbers are not shared with merchants or transmitted with payment.
To get set up to accept Apple Pay today, go to: https://1A114D.campgn2.com/Apple-Pay.
To learn more about Electronic Commerce International, please visit http://www.ecistore.com or call 888-404-7500.
About Electronic Commerce International:

For more than a decade, Scottsdale, Arizona-based Electronic Commerce International has been providing affordable, personalized payment processing solutions to merchants of all sizes in the United States and Canada, so business owners can focus on growing their company. ECI has more value added services for small, medium and large businesses than anyone, like Text Marketing, Business Lines of Credit, Merchant Cash Advance, Gift and Loyalty Program, Mobile Processing, 90 Days Same as Cash and Check Guarantee. ECI prides itself on superior customer service, offering support 24 hours a day, seven days a week. To learn more about Electronic Commerce and their extensive products visit them at http://www.ecistore.com.
Find More Digital Electronics Press Releases